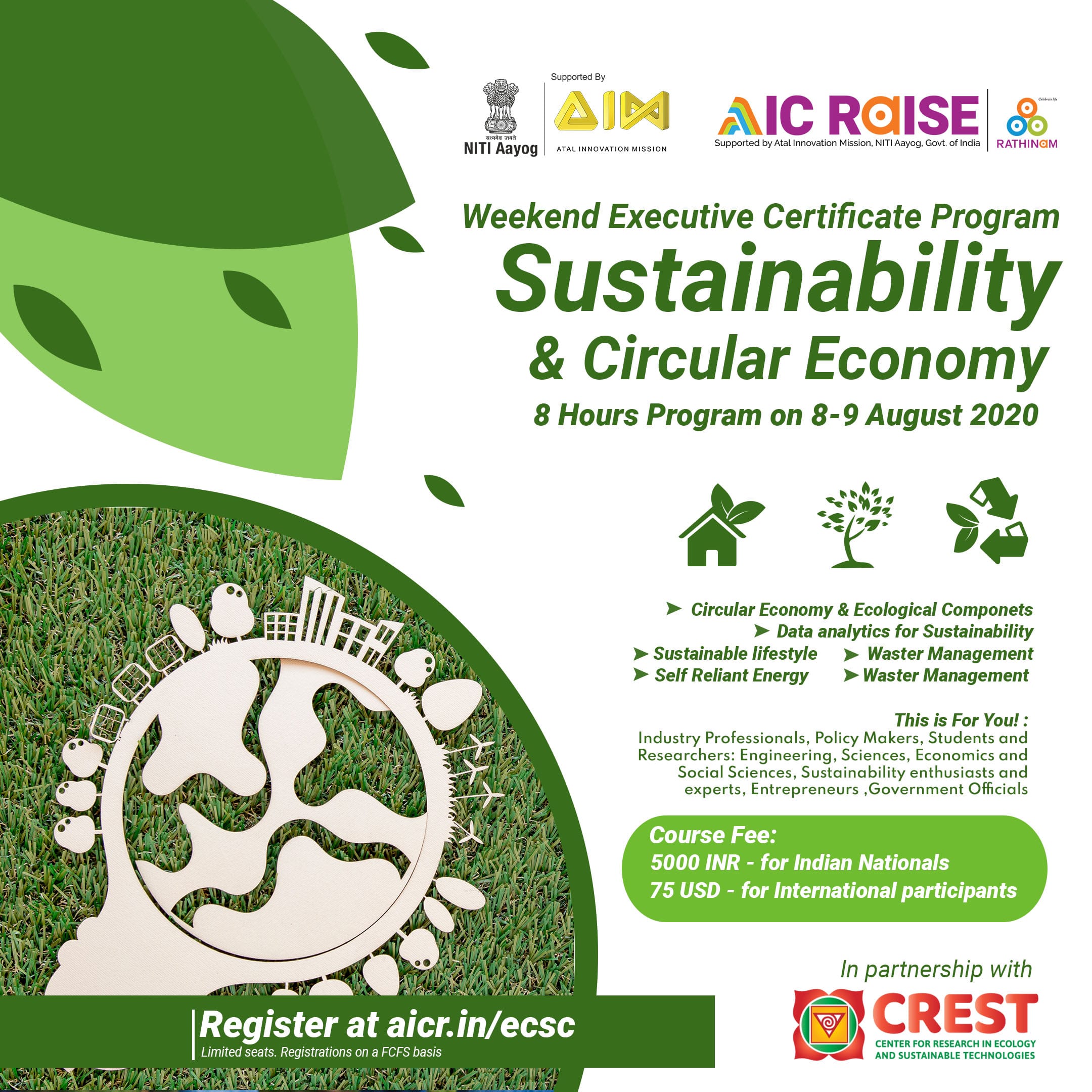 Weekend Executive Certificate Program Sustainability & Circular Economy
170
170 people viewed this event.
Online Executive Certificate Program
Limited seats. Registrations on a FCFS basis
Sustainable Development is a development that fulfills the needs of the present and also creates opportunities for future generations. Sustainability is inherently multi-dimensional as it involves systems thinking, grassroots level transformation, global policy changes and complex implementations. The COVID pandemic has all the more changed the equation with a call for new perspectives. This comprehensive certificate program designed for executives and students will cover various dimensions of Sustainable Development bringing a historic, indigenous, and global narrative. If we have to go back to a new normal, new thought, action and leadership are needed. This program is a step in that direction.
Topics covered include
– UN Sustainable Development Goals, Global Frameworks & Models of Economic Development
Indigenous perspectives on Sustainability and Local Knowledge Systems
Sustainable Agriculture & Food Systems
Self-reliant energy for achieving self-sufficiency
Waste Management and Regenerative Systems
Data Analytics for Sustainability
Sustainable Lifestyle and Low-Impact Living
Circular Economy & Ecological Economics
Sustainable Business Practices
Learning Outcomes
This course will teach you to introduce you to the foundational principles of Sustainable Development and take you through in-depth sessions on the multiple dimensions of Sustainable Development, covering all its aspects.
This program will also put you in touch with world-class faculty and peers highly committed to the cause of Sustainable Development.
The detailed course plan will be shared with registered participants
Who can participate
The course is open to Indian and International Participants.
Industry Professionals
Policy Makers
Students and Researchers: Engineering, Sciences, Economics and Social Sciences
Sustainability enthusiasts and experts
Entrepreneurs
Government Officials
For Indian Nationals
The course Fee is INR 5000.
For International Applicants
The course Fee is USD 75
The payment details will be emailed, upon filling the registration form